A recent ruling from the United Stated Third Circuit Court of Appeals in a wage and hour lawsuit holds that an employer cannot use the fact that it voluntarily paid its employees during their lunch to offset periods when employees worked but were not paid.  The Third Circuit is the federal appellate court that handles cases from several districts, including the District of New Jersey.
The case was brought by Bobbi-Jo Smiley, Amber Blow, and Kelsey Turner, three former employees of E.I. Dupont De Nemours & Co. and Adecco USA, Inc. (collectively, "DuPont"), as a potential class and collective action.  They claimed DuPont failed to pay them overtime for a total of approximately 30 to 60 minutes per day for time they spent (1) "donning and doffing," meaning putting on and taking off their uniforms and protective gear, and (2) "shift relief," meaning updating the employees who would be relieving them on the next shift.  Since the employees routinely worked more than 40 hours per week, they claimed they were entitled to time-and-a-half for these additional pre-shift and post-shift overtime hours.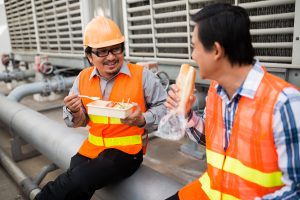 The workers sued under the Fair Labor Standards Act ("FLSA") and a similar state wage and hour law.  After 160 workers joined the lawsuit, DuPont filed a motion for summary judgment seeking to have the case dismissed.  The company argued that because it had voluntarily paid the workers during their lunch and other meal breaks – something it was not legally required – those payments should offset any additional overtime pay which the employees might be entitled to receive.  The trial court agreed and dismissed the case since the paid meal breaks were longer than the unpaid donning and doffing and shift relief time.  The employees appealed.