As I have said before, it is a widely view that individuals are much better off having their employment law disputes resolved in court rather than in arbitration.  Fortunately, a recent decision by the New Jersey Appellate Division helps make it more difficult for employers to force employment law cases into arbitration.
Eleison Pharmaceuticals, LLC hired Forrest Anthony as its Vice President and Chief Medical Officer.  They entered into a three year employment contract, pursuant to which Mr. Anthony would receive a $250,000 annual base salary plus bonuses.  The contract requires the parties to use a "phased dispute resolution process" for any disputes arising out of the agreement.  The final step of the dispute resolution process is binding arbitration.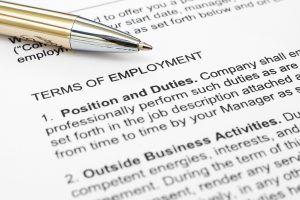 Mr. Anthony eventually filed a lawsuit against Eleison in which he alleged that the company owes him over $263,000 in unpaid salary.  Among his claims, he asserted that the company violated the New Jersey Wage Payment Act because it (1) did not pay him at least once per month; (2) did not pay him at least minimum wage; (3) did not pay him time-and-a-half when he worked more than 40 hours per week; and (4) did not pay him all wages he was owed when his employment relationship terminated.  In addition, he alleged the company breached his employment contract by failing to pay his full salary.