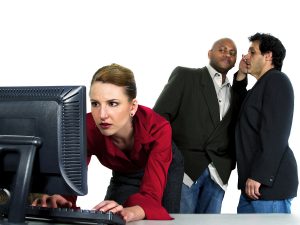 A recent opinion by New Jersey's Appellate Division recognizes that false rumors of a sexual relationship between a female employee and a male superior can create a legally actionable hostile work environment.
Jennifer Schiavone is a senior corrections officer for the New Jersey Department of Corrections ("DOC").  In 2013, the DOC assigned Officer Schiavone to work in the Central Control Unit ("Central Control"), which is a desirable job because it does not involve direct contact with inmates.
Shortly after the DOC transferred Officer Schiavone to Central Control, rumors began to spread that she was having an extra-marital affair with a high-level DOC official, "S.D."  Even though Officer Schiavone denied that she was having an affair with S.D., their supposed relationship became the subject of nearly daily conversation at work.  For example, on one occasion Officer Julie Houseworth asked Officer Schiavone if she planned to "blow" S.D.  Another time, Lieutenant Zsuzsanna Rogoshewski said: "That's her over there, that's who's sleeping with the [high-ranking official]," referring to Officer Schiavone and S.D.