A recent Third Circuit opinion, Moody v. Atlantic City Board of Education, reversed a District Court's order which had dismissed an employee's sexual harassment and retaliation lawsuit.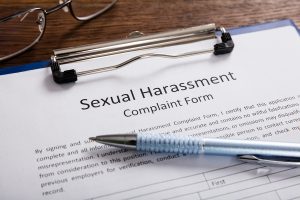 Michelle Moody worked as a substitute custodian for the Atlantic City Board of Education.  She claims the custodial foreman of the New York Avenue School, Maurice Marshall, sexually harassed her.  For example, she claims he made sexual comments to her, grabbed her breasts and buttocks, and offered to give her more hours of work if she performed sexual favors for him. She also alleges that on one occasion Mr. Marshall called her into his office and tried to take off her shirt, and on another occasion had her to come into his office while he was naked.
Mr. Marshall subsequently sent Ms. Moody a series of text messages implying he would offer her a full time job if she had sex with him.  According to Ms. Moody, Mr. Marshall showed up at her home that evening and told her she would receive an employment contract if she had sex with him. Mr. Marshall then grabbed Ms. Moody and began to kiss her. Ms. Moody claims she gave into Mr. Marshall's advances because she was afraid she would lose her job.