Arbitration is widely considered to be less favorable to employees and more favorable to businesses than jury trials.  As a result, many employers require their employees to sign arbitration agreements as a condition of getting hired or keeping their jobs.  In other words, employers try to force employees to give up their right to sue in court and have their cases decided by a jury.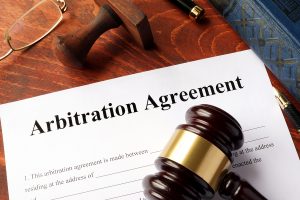 But a recent trial court opinion concludes that firing an employee because she refused to sign an arbitration agreement since she did not want to give up her right to a jury trial in any future discrimination lawsuit against her employer was an act of retaliation in violation of the New Jersey Law Against Discrimination ("LAD").  The LAD prohibits employers from retaliating against an employee because she has "opposed any practice" protected by the LAD, or from coercing, intimidating or threatening anyone's right pursuant to the LAD.
Jorvia Cator, an African American woman, began working for WRDC Corp. as a hotel reservation agent in March 2016.  Approximately one month later, WRDH implemented a new policy which required all employees to sign arbitration agreements that forced them to bring virtually any claim against the company in arbitration rather than in court.  Those agreements expressly stated that the employee is waiving her right to a jury trial.