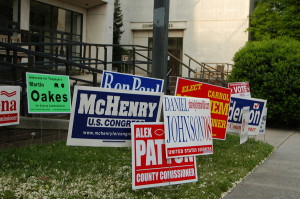 Earlier this week, the United States Supreme Court ruled that the First Amendment prohibits the government from demoting an employee because it incorrectly believed the employee had engaged in Constitutionally-protected political speech.
The case involves Jeffrey Heffernan, a police officer who worked for the City of Paterson, New Jersey.  In 2005, Lawrence Spagnola was running for mayor against incumbent Mayor Jose Torres.  Mayor Torres had appointed the Patterson Police Chief, James Wittig, tore his position.
At the request of his mother, Mr. Heffernan picked up a large sign supporting Mr. Spagnola for mayor that his mother wanted to put on her front lawn.  Other members of the Paterson Police Department saw Mr. Heffernan holding the sign while he was talking to members of Mr. Spagnola's campaign staff.