A recent New Jersey Appellate Division ruling provides a good example of how dangerous it can be to compete with your current employer.
B&H Securities, Inc. designs, sells and maintains security monitoring systems. In spring 2007, three of its employees, Michael Poisler, Marc Palladino and Duane Pinkney, decided to start a competing business, Advanced Integration Security. At the time, Mr. Pinkney was B&H's IT manager, Mr. Poisler was its sales manager, and Mr. Palladino was one of its salesmen.
A "Confidentiality Clause" in B&H's employee handbook states that after leaving their job, B&H employees cannot contact the company's customers. When he was hired by B&H, Mr. Pinkney signed a document agreeing to abide by this clause for 48 months after leaving the company. The company did not require Mr. Palladino or Mr. Poisler to sign any such agreement.
While still employed by B&H, Mr. Pinkney solicited two of B&H's customers on behalf of Advanced Integration Security. He also altered a five-year agreement between B&H and one of its customers to permit the customer to cancel its contract by giving 30 days' notice. He then resigned from B&H to work for Advanced.
On July 1, 2007, Mr. Palladino resigned from B&H and began working for Advanced. Meanwhile, Mr. Poisler continued to work for B&H, and provided inside information to Mr. Pinkney while simultaneously working for Advanced on weekends and evenings.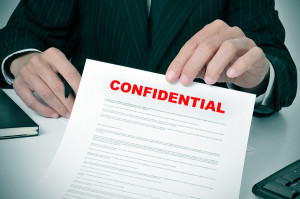 In August 2007, B&H sued Advanced, Mr. Pinkney and Mr. Palladino. The company alleged the three misappropriated the company's trade secrets and confidential information, breached the confidentiality provision in their employment contracts, interfered with B&H's contractual relations with its customers, engaged in unfair competition, and breached the implied covenant of good faith and fair dealing in their employment agreements. B&H subsequently added Mr. Poisler as a defendant, and added a claim under New Jersey's Computer Related Offenses Act ("CROA").
Following a bench trial, the court ruled in favor of B&H on all of its claims. It awarded $737,087 in compensatory damages, plus $100,000 in punitive damages against each of the defendants other than Mr. Poisler. The court subsequently awarded an additional $825,085 in attorney's fees under the CROA.
Mr. Poisler appealed. In B & H Securities, Inc. v. Pinkney, the Appellate Division upheld the lower court's finding that he violated the covenant of good faith and fair dealing "by participating in the misappropriation of B&H's confidential information" while he was working for B&H. The court did so even though Mr. Poisler did not have a written employment contract with B&H, finding that since he was an employee of B&H he necessarily had an agreement with the company.
The Appellate Division also found sufficient evidence to establish that Mr. Poisler violated CROA. Among other things, it found evidence supporting the trial court's finding that he assisted Mr. Pinkney's unauthorized access to data on the company's computer system. The Court noted that although B&H authorized Mr. Pinkney to access its computer system, he impermissibly transferred that data to his own computer in violation of CROA.
The Appellate Division also affirmed the lower court's finding that Mr. Poisler breached his duty of loyalty to B&H even though he did not sign the company's Confidentiality Clause since every employee has a duty of loyalty to his or her employer.
However, the appellate court reversed the award of $737,087 in compensatory damages against Mr. Poisler. It explained that the trial court calculated this figure based on Mr. Pinkney's written agreement not to use the company's confidential information for 48 months. However, Mr. Poisler did not sign a similar agreement, and only worked for Advanced for approximately 20 months. Accordingly, the Appellate Division asked the trial court to reconsider these damages, and to explain the basis for its new ruling.