As I have said before, it is a widely view that individuals are much better off having their employment law disputes resolved in court rather than in arbitration.  Fortunately, a recent decision by the New Jersey Appellate Division helps make it more difficult for employers to force employment law cases into arbitration.
Eleison Pharmaceuticals, LLC hired Forrest Anthony as its Vice President and Chief Medical Officer.  They entered into a three year employment contract, pursuant to which Mr. Anthony would receive a $250,000 annual base salary plus bonuses.  The contract requires the parties to use a "phased dispute resolution process" for any disputes arising out of the agreement.  The final step of the dispute resolution process is binding arbitration.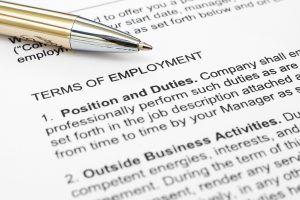 Mr. Anthony eventually filed a lawsuit against Eleison in which he alleged that the company owes him over $263,000 in unpaid salary.  Among his claims, he asserted that the company violated the New Jersey Wage Payment Act because it (1) did not pay him at least once per month; (2) did not pay him at least minimum wage; (3) did not pay him time-and-a-half when he worked more than 40 hours per week; and (4) did not pay him all wages he was owed when his employment relationship terminated.  In addition, he alleged the company breached his employment contract by failing to pay his full salary.
Eleison filed a motion to compel arbitration.  In response, Mr. Anthony sought permission to dismiss his breach of contract claim so he could pursue that claim in arbitration, which the court granted.  Nonetheless, the court concluded that Mr. Anthony's wage and hour claims alleged that the company breached his employment agreement.  Accordingly, it concluded that the arbitration clause applied, and ruled that the case had to be resolved in arbitration.
Mr. Anthony appealed.  In Anthony v. Eleison Pharms., LLC, the Appellate Division reversed the trial court's ruling.  The appellate court explained that to waive the right to pursue a statutory employment law claim in court an arbitration agreement has to make it clear it is waiving that right.  In addition, the agreement must clearly state that the employee is waiving his or her right to a jury trial.
Applying those principles, the Appellate Division concluded that the arbitration clause in Mr. Anthony's employment contract was not a "clear waiver" of his "right to pursue his claims in a judicial forum."  Specifically, it did not indicate that Mr. Anthony was waiving his right to file a lawsuit regarding statutory employment law claims or his right to a jury trial.  Accordingly, the Appellate Division held he had not effectively waived either of those rights, and should be permitted to proceed with his case in court.
Finally, the Court noted that there is a strong preference to have an entire dispute decided in a single case.  As a result, if Mr. Anthony already started arbitration over his breach of contract claim, either he or Eleison can ask the trial court to determine if it would be unfair to the other party under the circumstances to withdraw that claim from arbitration and to include it in the lawsuit.