New Jersey's Appellate Division has recognized that, although a client has the absolute right to fire its in-house counsel, the lawyer is entitled to damages if the employer fired him without cause, in breach of an employment contract.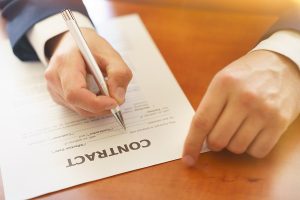 Kirk Nelson worked as in-house counsel for the Elizabeth Board of Education.  He had a three-year employment agreement to server as board counsel.  Pursuant to the contract, Mr. Nelson was entitled to a salary of $175,000 per year, with two-and-a-half percent annual increases.
Under his contract, the Board could not fire Mr. Nelson during the three-year term without cause.  It defined cause as:
A. a material breach of your obligations under this agreement including, without limitation, refusal or failure to comply with reasonable directions communicated to you in writing by the Board, which material breach you fail to cure within 15 calendar days of your receipt of notice of such breach;
B. conviction of a felony or a crime involving moral turpitude; and
C. gross negligence or intentional misconduct in the performance of your duties under this agreement.
Less than a year into the contract, Mr. Nelson was arrested for allegedly failing to produce a particular document in connection with an ongoing investigation into the Board's administration of the National School Lunch Program.  Approximately eight months later, Mr. Nelson was indicted.  Shortly thereafter, the Board fired him, approximately halfway through the term of his three-year contract.  Mr. Nelson was subsequently acquitted of all of the criminal charges against him.
Mr. Nelson filed a lawsuit against the Board, alleging it breached his employment contract by firing him without cause.  The Board eventually filed a motion for summary judgment, in which it argued that Mr. Nelson's contract conflicted with one of the Rules of Professional Conduct ("RPC") that apply to New Jersey Attorneys.  Specifically, RPC 1.16(a)(3) requires a lawyer to stop representing a client if the lawyer has been discharged.  Mr. Nelson cross-moved for summary judgment, arguing the Board had breached his employment agreement by firing him without cause.
The judge denied the Board's motion, and granted partial summary judgment to Mr. Nelson.  The judge concluded that, although the RPC gave the Board the right to fire Mr. Nelson, it did not "provide immunity . . . from a breach of contract claim, or the damages stemming from said breach."  However, the judge concluded that a trial was necessary to determine whether the Board had, in fact, breached the contract.
After a trial, the trial court concluded that the Board beached Mr. Nelson's employment contract by firing him without cause.  It awarded him $260,026.88 in damages, which was Mr. Nelson's salary for the balance of the three-year period, minus $13,520 he had earned from another job.  The Board appealed.
In Nelson v. Elizabeth Board of Education, the Appellate Division affirmed Mr. Nelson's verdict.  It recognized that RPC 1.16(a)(3) entitles a client to fire its lawyer for any reason, and prohibits the lawyer from seeking reinstatement as a remedy.  However, it ruled that the RPC does not take away an in-house lawyer's right to seek money damages for a termination that breaches his employment contract.