Earlier this month, in Temple-Inland, Inc. v. Kenneth Dee, New Jersey's Appellate Division ruled that a company could be liable for failing to inform an employee about a change to its commission plan until after the change went into effect. The case also addresses numerous other issues in a complex dispute between the company and its former employee.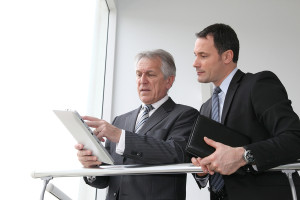 Kenneth Dee worked as a salesperson for Temple-Inland, Inc. for fourteen years. Temple-Inland paid Mr. Dee a base salary plus commissions. The company eventually changed how it was calculating commissions. It apparently substantially reduced Mr. Dee's commissions in comparison to his peers because he had been receiving extraordinarily high commissions from his best customer, Church & Dwight.
Mr. Dee complained about his reduced commissions. According to Mr. Dee, the Regional Vice President of Sales and Marketing indicated the company would address this by performing an audit. Mr. Dee further claims that although the audit revealed he was being underpaid, the company did nothing to remedy the situation.
On August 27, 2010, Mr. Dee accepted a job offer with one of Temple-Inland's competitors, Packaging Company of America ("PCA"). Before he resigned from Temple-Inland, he downloaded price lists and account information for his accounts from a password-protected computer.
While he was still working Temple-Inland, Mr. Dee met with Church & Dwight to solicit its business for PCA. On his last day of work for Temple-Inland, he received an email from Church & Dwight seeking a Request For Proposal ("RFP"), but did not mention it to anyone at Temple-Inland. Temple-Inland ultimately learned about the RFP and submitted a bid.
Temple-Inland filed a lawsuit against Mr. Dee, claiming he breached his fiduciary duty to it and misappropriated its confidential and proprietary information. Mr. Dee filed various counterclaims seeking additional commissions.
The trial court granted an injunction prohibiting Mr. Dee from using the company's confidential information in the future, but dismissed the rest of Temple-Inland's case because it did not prove it suffered any actual injury or damages. It also dismissed all of Mr. Dee's counterclaims. Both parties appealed.
In an unpublished opinion, the Appellate Division concluded the company did not breach Mr. Dee's employment contract since its commission policy did not require it to adjust Mr. Dee's commissions after an audit. However, it found evidence to support an equitable estoppel claim. Equitable estoppel is when someone intentionally misleads you into doing something based on an understanding you will receive something in return, when it would be unfair and unjust for the other party not to fulfill those expectations. The court concluded Temple-Inland could have misled Mr. Dee to believe his commissions would be adjusted when it told him it would address the discrepancies to his commissions through its audit. It also found Temple-Inland may have violated the New Jersey Wage Payment Act by failing to tell Mr. Dee in advance that it was reducing his commissions on the Church & Dwight account.
With respect to Temple-Inland's claim that Mr. Dee violated his duty of loyalty, the court explained that an employee can accept a job with a competitor while he is still employed by his current employer. However, the duty of loyalty prohibits a current employee from acting contrary to his employer's interest, competing with his employer, or assisting its competitors. The Court agreed with the lower court that although Mr. Dee violated his duty of loyalty, there was no evidence to support a damages claim against him.
Likewise, the court affirmed the dismissal of Temple-Inland's duty of loyalty claim against Mr. Dee. It found evidence that Mr. Dee intentionally withheld information regarding Dwight & Church's RFP from his employer, in violation of his duty to it. However, it concluded there was no evidence this caused Temple-Inland any harm.