A New Jersey court recently ruled that a company can be liable for breach of contract, among other claims, when it withdraws a job offer after an employee resigns from his current job based on the new job.
The job offer was made by Onward Search, a staffing company, to an individual named John Kenny. In August 2014, Onward contacted Mr. Kenny to see if he was interested in freelance work for a company called Tandem Seven. Mr. Kenny, a "user experience architect," indicated he was interested in working on an eight to twelve month project for Tandem at an hourly rate of at least $85 per hour. He subsequently had multiple job interviews with Tandem.
On Thursday, September 17, 2014, Justin Court, a representative of Onward Search, asked Mr. Kenny whether he could accept a job offer on Mr. Kenny's behalf if Tandem made him an offer. Mr. Kenny told Mr. Court he could do so as long as "everything we discussed was still in place." They confirmed that Mr. Kenny agreed to a rate of $85 per hour and needed to give his current employer two weeks' notice of his resignation.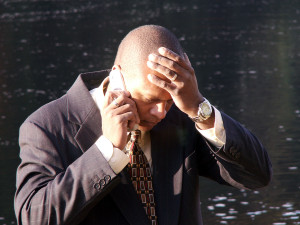 Approximately 12 minutes later, Mr. Court called Mr. Kenny back and told him he had accepted an offer from Tandem on his behalf. In response, Mr. Kenny confirmed he was available to start working for Tandem on Monday, October 6, 2014.
On September 18, 2014, Mr. Kenny resigned from his current job. The next day, September 19, 2014, Mr. Court informed Mr. Kenny that Tandem had withdrawn its job offer because Mr. Kenny could not start working for it for two weeks. According to Mr. Kenny, this was the first time anyone told him the job offer was conditioned on his immediate availability.
Mr. Kenny filed a lawsuit against both Onward and Tandem. He asserted numerous claims, including breach of contract, negligent misrepresentation, promissory estoppel and violations of the New Jersey Private Employment Agency Act and the New Jersey Consumer Fraud Act. The companies filed a motion asking the court to dismiss the case.
In Kenny v. Onward Search, the United States District Court for the District of New Jersey refused to dismiss most of Mr. Kenny's claims. For example, it did not dismiss his breach of contract claim, finding Mr. Kenny's allegations could support a claim of breach of an oral contract. Although the companies argued they could fire an employee at-will at any time and for virtually any reason, the Court recognized this did not prohibit Mr. Kenny's claim since his contract was for a specified period, namely 8 to 12 months.
Similarly, the Court declined to dismiss Mr. Kenny's negligent misrepresentation claim. It explained that Mr. Kenny alleged that Onboard and Tandem made an incorrect statement that he could start working two weeks after he gave notice to his former employer, he relied on that incorrect statement by resigning from his job, and he lost income as a result. It also did not dismiss his promissory estoppel claim, finding he alleged that he reasonably relied on Onboard and Tandem's clear and definite promise that he would be paid $85 per hour for at least 8 months, and did so to his detriment by resigning from his job.
However, the Court dismissed Mr. Kenny's claim under the New Jersey Private Employment Agency Act Claim, finding there is no right for individuals to bring claims under it. Likewise, it dismissed his claim under the New Jersey Consumer Fraud Act Claim because he is not a "consumer" of Onboard since he did not seek to purchase goods or services from it.