A recent ruling by the Second Circuit Court of Appeals in a sexual harassment retaliation case holds that an employer can be liable if it negligently fires an employee due to the discriminatory or retaliatory animus of an employee who was not a supervisor.
Andrea Vasquez worked for Empress Ambulance Service, Inc. as an emergency medical technician.  One of her coworkers, Tyrell Gray, repeatedly asked her out on dates, tried to flirt with her and put his arm around hers and touched her shoulders.  Mr. Gray's conduct was unwelcome and made Ms. Vazquez uncomfortable.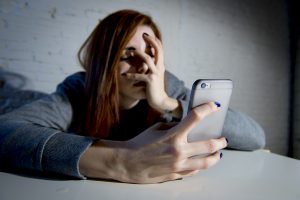 For instance, on January 8, 2014 Mr. Gray asked Ms. Vasquez to go on a date with him.  Ms. Vazquez made it clear she was not interested.  Later that evening Mr. Gray texted Ms. Vazquez a picture of his penis.  Extremely upset, embarrassed and in tears, at the end of her shift Ms. Vazquez complained to her supervisor and began typing a sexual harassment complaint.
Mr. Gray saw Ms. Vazquez while she was typing her complaint.  After asking her if she was typing a sexual harassment complaint, he left the room and asked a coworker, Almairis Zapata, to lie for him because he was "afraid he was going to lose his job."  Specifically, he asked Mr. Zapata to claim Mr. Gray was in a romantic relationship with him.  Mr. Zapata refused.
Ms. Vazquez submitted her complaint to her supervisor and a member of the human resources department.  She offered to show them Mr. Gray's text messages to her, but they declined.
In the meantime, Mr. Gray edited a text message conversation to make it seem as if he and Ms. Vazquez had participated in a consensual sexual conversation and submitted it to Empress' management.  He also submitted a racy picture of a women and claimed it was a picture Ms. Vazquez sent him of herself.  Based on this information, Empress immediately fired Ms. Vazquez, concluding she had sexually harassed Mr. Gray.
Ms. Vazquez filed a retaliation claim, alleging Empress fired her because she objected to sexual harassment, in violation of Title VII of the Civil Rights Act of 1964 and the New York State Human Rights Law ("NYHRL").  The district court dismissed her case, concluding Empress did not intend to retaliate against her and could not be held liable for Mr. Gray's retaliatory intent since he was a low-level employee rather than a supervisor.  Ms. Vazquez appealed.
In Vasquez v. Empress Ambulance Service, the Second Circuit reversed that ruling.  It concluded that an employer can be held liable for a low-level employee's retaliatory motive if, when deciding to take an adverse employment action, the company either (1) knew about the employee's retaliatory animus, or (2) negligently accepted the employee's allegations without doing an adequate investigation.  The Court was careful to make it clear that an employer cannot be held liable for simply relying on false allegations a co-worker made for retaliatory or discriminatory unless the employer was negligent in doing so.
Thus, the Second Circuit concluded that Empress can be held responsible for Mr. Gray's retaliatory motive if it was negligent in firing her without adequately investigating the allegations of sexual harassment, including by refusing to review the text messages on Ms. Vasquez phone.  Accordingly, it reversed and remanded the case to the lower court.
Vasquez expands the "cat's paw" theory of liability.  Previously, this theory has permitted judges and juries to hold employers liable for discrimination when, for a discriminatory or retaliatory reason, one supervisor influences another supervisor to fire or discipline a subordinate.  Vasquez expands the "cat's paw" theory to apply when an employer negligently relies on a lower-level employee's discriminatory or retaliatory actions when it makes a disciplinary decision.