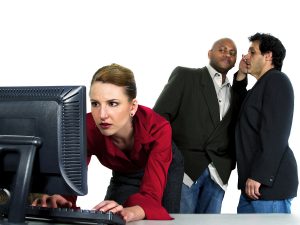 A recent opinion by New Jersey's Appellate Division recognizes that false rumors of a sexual relationship between a female employee and a male superior can create a legally actionable hostile work environment.
Jennifer Schiavone is a senior corrections officer for the New Jersey Department of Corrections ("DOC").  In 2013, the DOC assigned Officer Schiavone to work in the Central Control Unit ("Central Control"), which is a desirable job because it does not involve direct contact with inmates.
Shortly after the DOC transferred Officer Schiavone to Central Control, rumors began to spread that she was having an extra-marital affair with a high-level DOC official, "S.D."  Even though Officer Schiavone denied that she was having an affair with S.D., their supposed relationship became the subject of nearly daily conversation at work.  For example, on one occasion Officer Julie Houseworth asked Officer Schiavone if she planned to "blow" S.D.  Another time, Lieutenant Zsuzsanna Rogoshewski said: "That's her over there, that's who's sleeping with the [high-ranking official]," referring to Officer Schiavone and S.D.
In addition, employees began spreading rumors that Officer Schiavone had obtained her job in Central Control because she was having an affair with S.D.  For instance, Lieutenant Christopher Danielson said he did not "give a f–k who [plaintiff] f—ed to get this job."
Officer Schiavone repeatedly complained to the DOC about the rumors and comments about her supposed affair with S.D.  In response, the DOC told Officer Schiavone to ignore the rumors and "keep dodging the bullets."
Officer Schiavone eventually filed a lawsuit in which she alleged that the DOC had sexually harassed her in violation of the New Jersey Law Against Discrimination ("LAD").  Her case proceeded all the way to a trial.  At the end of the trial, a jury found the DOC had sexually harassed Officer Schiavone, and awarded her $100,000 in emotional distress damages plus $216,875 in punitive damages.  In addition, the trial judge subsequently awarded Officer Schiavone $585,014.35 in attorney's fees and legal costs, for a total judgment of more than $900,000.
The DOC appealed.  One of its primary arguments was that the evidence did not support a sexual harassment claim.  One element of a sexual harassment claim is that the harassment occurred because of the employee's gender.  The DOC argued that the rumors Officer Schiavone was having a sexual relationship with a male DOC employee was not "because of" her gender since it equally could have been about a male employee who supposedly was having an affair with a female superior, and thus was not sexual harassment.
The Appellate Division disagreed.  In its December 26, 2019 opinion in Schiavone v. New Jersey Department of Corrections, the Court noted that a previous Appellate Division opinion recognized that rumors of a sexual relationship are "facially sex-related" and therefore are "because of sex."  It also recognized that the Third Circuit Court of Appeals has held, in the context of another case involving rumors of a sexual relationship between a female employee and a male supervisor, that there is a negative stereotype about the "relationship between the advancement of women in the workplace and their sexual behavior."
Ultimately, the Appellate Division found there was enough evidence to support the jury's conclusion that the DOC harassed Officer Schiavone because she is a woman.  Agreeing with the trial court, it explained that "a female officer would endure unique implications because of the rumored affair which a male counterpart would not."  Thus, the appellate court ruled that a female employee can base a sexual harassment claim on false rumors that she was having an affair with a male employee.  Accordingly, it affirmed the jury's verdict.