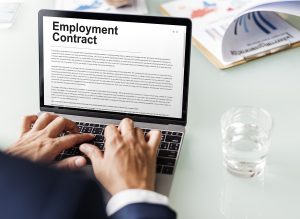 Last October, I discussed a case in which the District of New Jersey issued an injunction which enforced ADP, LLC's non-compete agreement with two of its former employees.  Earlier this month, the Third Circuit Court of Appeals affirmed that ruling.
Non-Compete Agreement in Online FormTerms Agreement ConceptADP claims that Jordan Lynch and John Halpin violated the non-compete agreements they entered into when they accepted stock awards from the company.  Specifically, ADP provided the stock awards, its stock award plan and a non-compete agreement to Mr. Lynch and Mr. Halpin online.  Before they could accept their stock awards, they had to check a box simply confirming they had read all three documents, although it did not explicitly state that they were agreeing to the terms of those documents.
The non-compete agreement indicates that an employee cannot work for a competitor of ADP, or solicit business from any of its current and prospective clients, for 12 months after he stops working for the company.  Nonetheless, when Mr. Lynch and Mr. Halpin left ADP they began working for one of its competitors, Ultimate Software.