New Jersey has many well-known laws that protect employees. Perhaps the two best know are the New Jersey Law Against Discrimination ("LAD"), an anti-discrimination law, and the Conscientious Employee Protection Act ("CEPA"), a whistleblower law. The state has many other employment laws as well.
One much less known law is the Worker Freedom From Employer Intimidation Act, which went into effect in 2006. It protects employees against certain forms of religious and political intimidation at work. Specifically, it prohibits companies from requiring employees to attend meetings or to participate in communications regarding the employer's opinion about religious or political issues. The law defines "political matters" to include affiliation with a political party, as well as decisions to join, not join, or participate in "any lawful political, social, or community organization or activity."
Despite that prohibition, the act allows employers to invite employees to voluntarily attend employer-sponsored meetings and to provide other religious and political communications to their employees as long as make it clear the employees will not be penalized if they refuse to attend the meetings or accept the communications.
The Act includes an exception permitting communications about religious or political matters that the employer is legally required to communicate to the employee. However, this exception applies only to the extent the communication is legally required.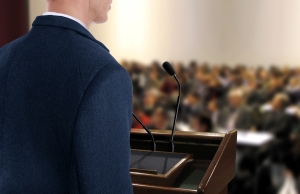 The law also permits religious organizations to require employees to attend employer-sponsored meetings or to participate in any communications with the employer to communicate the employer's religious beliefs, practices or tenets. Similarly, it permits political organizations and political parties to require employees to attend meetings or participate in communications about the employer's political purposes and beliefs. Further, it permits educational institution to require student or instructors to attend lectures on political or religious matters as long as they are part of the institution's regular course work.
In addition, the law prohibits retaliation. In particular, it makes it unlawful for an employer to fire, discipline or otherwise penalize, or to threaten to fire, discipline or penalize an employee because he or she reported an actual or suspected violation of the Act.
The Act allows a wide range of relief to employees whose rights have been violated under it. Those remedies include: (1) a restraining order prohibiting continuing violations; (2) reinstatement of the employee to his/her former job or an equivalent one; (3) lost wages and benefits; and (4) reasonable attorneys' fees and costs. It also permits an award of punitive damages, but caps those damages at three times the employee's actual damages.
Unfortunately, the Act has only a 90-day statute of limitations. As a result, an employee who wants to pursue a claim under it must act extremely quickly. It also makes it clear it does not limit the right to bring a common law wrongful termination claim which, when applicable, has a two-year state of limitations. Further, individuals who have claims under the Act may also have claims of religious discrimination under the LAD, retaliation under CEPA, or other related claim.
For information about other New Jersey employment laws, please see my previous article which provides an Overview of New Jersey Employment Law Statutes.