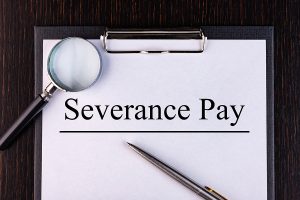 Beginning on April 11, 2023, an important new employment law will go into effect pursuant to which many employees who lose their jobs in New Jersey will be legally entitled to receive severance pay.  Specifically, covered employees will be entitled to at least one week of severance per year they worked for their employer.
This new severance pay requirement does not apply to every employee who loses his or her job.  For example, it applies only to individuals who lose their jobs as a result of a mass layoff or a transfer or termination of operations that results in at least 50 employees who report to work at a single facility (including employees who work remotely and report to that facility) losing their jobs within a 30 day period (or, sometimes within a 90 day period).  A facility can be a single location, a group of locations that form a single office or industrial park, or separate locations across the street from each other.
In addition, companies that have at least 100 employees must provide covered employees at least 90 days of notice before their layoff becomes effective.  There is a penalty when an employer fails to provide an employee that notice, namely that the employees is entitled to an extra four weeks of severance pay.