The Sexual Harassment
Last week, the New Jersey Appellate Division clarified what a company must prove before its anti-harassment policy can protect it from a sexual harassment claim. The case, Allen v. Adecco, involves Jessica Allen, an employee who worked for the University of Medicine & Dentistry of New Jersey (UMDNJ) through an employment firm, Adecco. According to Ms. Allen, her supervisor, Jacques Coles, sexually harassed her. For example, she says Mr. Coles made sexual comments to her, commented about her clothes, asked about her dates, told her he wanted to date her, described her lips and breasts, described how he thought she would act during a sexual encounter, described a sexual fantasy involving her, used graphic and vulgar language, touched her back, thighs and buttocks, pulled her undergarment, brushed against her, called her "sexy," and referred to himself as her "future husband."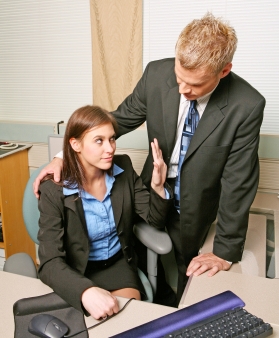 Ms. Allen's Objections to the Harassment
Ms. Allen also says she objected to Mr. Coles' harassment. In response, he claimed she wanted him, and liked what he was doing. When Ms. Allen told Mr. Coles she was going to report the harassment, he told her that nobody would believe her and she would lose her job if she reported him. Based on those threats, Ms. Allen did not report Mr. Coles' sexual harassment for more than a month.
Within hours after Ms. Allan finally filed a complaint about the sexual harassment, UMDNJ transferred Mr. Coles to another position in the same building. However, Mr. Coles continued to harass her and began to retaliate. UMDNJ eventually transferred Ms. Allen to a new position in another building, and the harassment stopped.
UMDNJ's Anti-Harassment Policy
The trial court dismissed Ms. Allen's case, finding that because UMDNJ had an anti-harassment policy and stopped the harassment soon after Ms. Allen complained, the company was not legally responsible. However, the New Jersey Appellate Division disagreed, and instead ruled that a jury should decide whether UMDNJ's anti-harassment policy was "effective" and "active." Under New Jersey law, only effective and active anti-harassment policies provides a company with a complete defense to sexual harassment committed by one of its supervisors.
According to the Appellate Division's decision, an anti-harassment is "effective" and "active" only if it:
Is published or provided to employees;
Requires anti-harassment training;
Is completely committed to intolerance of harassment;
Is effective in prohibiting harassment;
Includes formal and informal complaint structures;
Has an effective and practical grievance process;
Includes ways for the employer to confirm the policy and complaint procedures are working properly; and
Workers, supervisors, and managers are trained how to recognize and prevent unlawful harassment.
The Appellate Division concluded that a jury needed to decide whether UMDNJ's anti-harassment policy met these requirements. As a result, it sent the case back for a trial at which a jury can decide whether UMDNJ is liable for Mr. Coles sexually harassing Ms. Allen.

If you have experienced sexual harassment at work in New York or New Jersey, an experienced employment lawyer can help. Contact us to schedule a consultation.