In a recent employment law case, New Jersey's Appellate Division ruled that an employer had waived its right to compel arbitration by waiting 10 months before it sought to do so.
Tevin Welcome worked as a van driver for Huffmaster, Inc.  Before Huffmaster hired him, Mr. Welcome completed an online application.  The application included an arbitration provision, which indicated that if he accepted a job with the company, then he would have to resolve any dispute with the company, including claims of discrimination or retaliation, through arbitration instead of in court.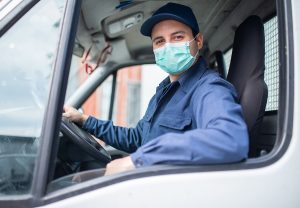 When Huffmaster hired Mr. Welcome, he moved from Texas to New Jersey for the job.  However, he quickly discovered that few of his coworkers and the clients who rode in the van he drove complied with New Jersey's COVID-19 mask mandate.  Mr. Welcome was particularly concerned that he could get COVID and give it to his six-year-old son who has health problems.
Although Mr. Welcome brought his concern about the fact the people were not wearing masks when they were required to do so to his supervisors' attention, nobody did anything to address his concerns it.  Instead, he says the company criticized him for discussing the issue with his colleagues, many of whom began to raise their own concerns about the fact that people were not wearing masks.
According to Mr. Welcome, a few days after he raised his concerns about the lack of masks to his supervisors, the company cut off his communication and asked him to return the keys to his van keys.  Huffmaster fired Mr. Welcome only 10 days after he began working for it.  When Mr. Welcome asked why he was fired, he was told he had violated company policy by discussing "non-work-related issues" with his coworkers.
Mr. Welcome then filed a lawsuit, in which he claims Huffmaster's decision to fire him was retaliation for his objection to the company's failure to enforce New Jersey's mask mandate, in violation the Conscientious Employee Protection Act ("CEPA") and discrimination for his association with his disabled son, in violation in violation of the New Jersey Law Against Discrimination ("LAD").
The case proceeded for approximately 10 months during which the parties exchanged documents, responded to each other's interrogatory questions, and filed several motions.  However, two days before Mr. Welcome's deposition, one of Huffmaster's lawyers discovered the arbitration clause in Mr. Welcome's employment application.  Huffmaster then took Mr. Welcome's deposition.  Eight days after the deposition, the company filed a motion to dismiss the case and to compel arbitration.
In response to company's motion, Mr. Welcome made numerous arguments why the arbitration clause was unenforceable, including arguing it was unconscionable and that Huffmaster had waived its right to enforce the arbitration clause by waiting more than 10 months into the lawsuit before it first raised the issue.  Nonetheless, the trial court granted the company's motion and ruled that Mr. Welcome had to pursue his case in arbitration.  Mr. Welcome appealed.
On February 8, 2022, in Welcome v Huffmaster Staffing Inc., the Appellate Division reverse.  It ruled that Huffmaster had waived the right to enforce the arbitration clause based on its conduct, including the fact that the company unjustifiably waited over 10 months before it sought to compel arbitration; the parties had filed several motions and engaged in substantial discovery before Huffmaster filed its motion to compel arbitration, and had even waited until after Mr. Welcome's deposition before it told him it intended to seek to compel arbitration.
In its opinion, the Appellate Division relied heavily on the New Jersey Supreme Court's opinion in Cole v. Jersey City Medical Center, a case on which I handled the initial appeal.  You can read my article about Cole here.