Earlier this month, the United States District Court for the District of New Jersey permitted an employee to continue with his claim that his employer harassed him because he is disabled, but dismissed his other disability discrimination claims.
Francis Gavin worked for Haworth, Inc. in various sales roles.  Mr. Gavin has a back disability which required him to undergo several surgeries and time off from work.  Most recently, he took off two weeks after lumbar spinal fusion surgery in August 2012.  He returned to work gradually, with medical restrictions for approximately 4 ½ months.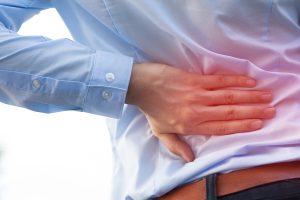 After he returned to work, Mr. Gavin's supervisor, Henry Pizoli, frequently made disparaging comments about his back condition.  For example, he commented about the fact that Mr. Gavin had to wear a duragesic patch and a back brace, saying it "doesn't look good in front of customers" and asked him in front of a customer if he would be "able to work normally without this [back condition] being the center of attention."  Mr. Pizoli also told Mr. Gavin he "should have never come back to work" after his surgery, and repeatedly suggested he should "leave."
In early 2013, Mr. Pizoli rated Mr. Gavin's 2012 job performance as "Needs Development" because he did not meet his sales quota without accounting for the fact that Mr. Gavin had been out of work and then on light duty for a total of five months following his surgery.
In October 2013, Mr. Pizoli required Mr. Gavin to submit weekly activity tracking reports.  When Mr. Gavin told Mr. Pizoli that having to sit and type these reports was extremely painful, Mr. Pizoli indicated he would fire him if he did not submit the reports.
In late 2013, Mr. Pizoli gave Mr. Gavin a Verbal Warning for supposedly failing to maintain positive work relationships with certain customers and co-workers.  He followed this up with a Written Warning and then a Final Written Warning stemming from purported customers complaints about Mr. Gavin's behavior.  Around the same time, the company reassigned a business development manager who had been helping to support Mr. Gavin.  On February 20, 2014, the company placed Mr. Gavin on a two-day paid leave to "submit a letter of commitment plan."
In the meantime, in January 2014 Mr. Gavin's doctors advised him to stop sitting in a typing position because of the impact on his back.  At the end of February, Mr. Gavin's lawyer told Haworth that he would not return to work until he received clearance from his doctor.  Mr. Gavin eventually applied for and received short term disability followed by long term disability benefits.
On December 11, 2014, Mr. Gavin sued Haworth, claiming it discriminated and harassed him because of his disability and failed to accommodate his disability in violation of the New Jersey Law Against Discrimination ("LAD").
Haworth eventually filed a motion for summary judgment, seeking to dismiss Mr. Gavin's case.  In Gavin v. Haworth, Inc., the court dismissed Mr. Gavin's discrimination and failure to accommodate claims since he did not suffer any "adverse employment action," meaning a "significant change in employment status, such as hiring, firing, failing to promote, reassignment with significantly different responsibilities, or a decision causing a significant change in benefits."
However, the court did not dismiss Mr. Gavin's harassment claim.  Rather, it concluded that, considering the totality of the circumstances a jury could find that Haworth created a hostile work environment for Mr. Gavin because of his disability.  In doing so, the court recognized that many of Mr. Pizoli's negative comments directly referred to Mr. Gavin's back condition.  In addition to the facts described above, the court relied on the fact that Mr. Gavin submitted sworn statements from two Haworth employees who described Mr. Pizoli acting hostilely and putting undue pressure on Mr. Gavin for no apparent reason after he returned from his August 2012 surgery.