A recent disability discrimination opinion from the District of New Jersey reflects the relatively low burden an employee has to meet to have his case decided by a jury.
Damian Melton, a Type I diabetic, worked as a doorperson for Resorts Casino Hotel in Atlantic City for approximately six years.  Due to his medical condition, Resorts granted Mr. Melton an intermittent leave under the Family & Medical Leave Act (FMLA), and did not require him to work the graveyard shift as a reasonable accommodation for his disability.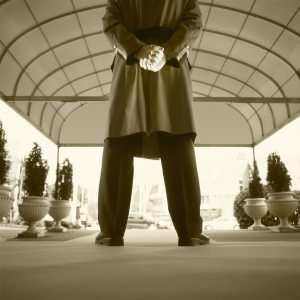 In August 2010, Mr. Melton injured his shoulder, necessitating surgery.  When he returned to work a few months later the hotel assigned him to a light duty job as a valet cashier.
Around the same time, the company that owned Resorts went into foreclosure.  Another company, DGMB Casino, LLC, agreed to purchase the hotel.  All of the hotel's employees received notices from Resorts informing them their employment was being terminated as of December 1, 2010.  They also received notices from DGMB inviting them to apply for jobs with it.
Mr. Melton applied for numerous jobs, including doorperson, but DGMB did not hire him.  Instead, it hired six doorpersons, five of whom previously worked for Resorts and a sixth who had not.
Mr. Melton sued, claiming DGMB failed to hire him in violation of both the FMLA and the New Jersey Law Against Discrimination ("LAD").  The employer filed a motion for summary judgment, asking the trial judge to dismiss his LAD claim.  It argued Mr. Melton could not prove he was objectively qualified to perform his job, which is a requirement to prove a discrimination claim.  Specifically, it claimed he did not have the physical ability to work as a doorperson.
In analyzing this issue, the judge explained it is necessary to determine the essential job functions of a doorperson.  This has to be decided on a case-by-case basis, considering factors including which job duties the employer considers essential, what is stated in the written job description, how much time employees spend performing each function and the consequences if an employee is unable to perform the function.
Mr. Melton argued he is objectively qualified to perform his job because he was worked for Resorts as a doorperson for six years and received positive reviews from his supervisors and customers.  The Court noted that due to his shoulder injury, Mr. Melton was unable to work as a doorperson when he last worked for Resorts and needed a light duty position.  However, it recognized this was a temporary accommodation while his shoulder healed, and found he presented sufficient evidence to establish he was qualified for the job.
DGMB also argued Mr. Melton was not qualified for the job because he did not have enough flexibility with his work schedule since he cannot work the graveyard shift.  It claimed this was important since there are only six doorpersons who have to cover the job 24 hours per day, seven days per week.  However, Mr. Melton presented evidence that most of the other doorpersons work regular set schedules.  Based on this, the judge ruled there is enough evidence for a jury to find Mr. Melton is qualified for the job.
Finally, the judge found there is enough evidence for a jury to find DGMB did not hire Mr. Melton because of his disability.  The company claimed it did not hire him because he had poor job performance and a negative attitude in the past, and offered some evidence to support these claims.  Nonetheless, the Court relied on the positive reviews Mr. Melton received from his employer and customers.  It found this was enough to allow a jury to question the company's explanation and to conclude his disability was the real reason DGMB chose not to hire him.  Accordingly, in Melton v. Resorts International Hotel, Inc., the Court denied the company's motion for summary judgment.