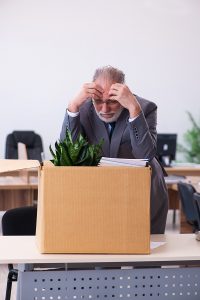 An employee bringing an age discrimination claim does not need to state the age of the individuals who replaced him in the lawsuit.  Rather, at that early stage, it is sufficient to assert that his replacement was "significantly younger" than him.
That was the ruling of the Third Circuit Court of appeals earlier this year.  The Third Circuit is a court that handles appeals from the District of New Jersey.
The case was brought by Zeferino Martinez, M.D., an orthopedic surgeon.  Dr. Martinez's former employer, UPMC Susquehanna, fired him in 2017.  At the time, Dr. Martinez was 70 years old.
According to Dr. Martinez, his employer told him it fired him because it was "moving in a different direction" and his "services were no longer needed."  It also told him the decision "had nothing to do with [his] performance."
Dr. Martinez filed a lawsuit in which claims UPMC, the company that owns the hospital for which he worked, fired him because of his age, in violation of the Age Discrimination in Employment Act ("ADEA").  Dr. Martinez asserts that the hospital replaced him with two other doctors, John Hunter and Wingrove Jarvis.  He further alleges that Dr. Hunter and Dr. Jarvis were "significantly younger," "less qualified" and "less experienced" than him.  However, his lawsuit does not provide the ages of Dr. Hunter and Dr. Jarvis.
The District Court dismissed Dr. Martinez's case, finding his allegation that Dr. Hunter and Dr. Jarvis were "significantly younger" was just a legal conclusion, and he failed to allege any facts to support his claim that UPMC fired him because of his age.  Dr. Martinez appealed.
The Third Circuit Court of Appeals reversed the District Court's ruling.  In Martinez v. UPMC Susquehanna, it concluded that an allegation that someone is "significantly younger" is a factual allegation, and not a legal conclusion.
The Court explained that a plaintiff might not know the age of his replacement when he files his lawsuit, and might need to learn that information through discovery.  In contrast, it recognized that an employer typically could simply look up that information in its own records.
The Third Circuit made it clear that evidence that employee was replaced by someone significantly younger than him is not even necessary to prove an age discrimination case.  For example, an employee can prove age discrimination based on direct evidence, such as a statement by the employer that it fired him because of to his age.  Alternatively, it can include other facts which, "if otherwise unexplained, are more likely than not based on the consideration of impermissible factors."  It provided, as an example of that type of proof, evidence that the employer "continued to seek applicants from among those having plaintiff's qualifications."
Ultimately, the Court ruled that Dr. Martinez's allegations that he was replaced by individuals who were "significantly younger," less qualified, and less experienced than him were enough to state a claim of age discrimination.  While Dr. Martinez clearly will need more evidence to prevail at trial, the Third Circuit found that was enough for the case to proceed with discovery.  Accordingly, it sent the case back to the District Court to give Dr. Martinez an opportunity to prove his case.