Earlier this year, the United States Supreme Court ruled that an employee can pursue a retaliation claim under Title VII of the Civil Rights Act of 1964 based on being fired because his fiancée objected to discrimination by the same employer. Title VII is a federal law that prohibits employment discrimination based on gender, race, color, and national origin. It also prohibits employers from retaliating against employees who object to discrimination that violates Title VII.
Eric Thompson and his fiancée, Miriam Regalado, both worked for North American Stainless, LP (NAS). Ms. Reglado filed a claim of sex discrimination against NAS with the Equal Employment Opportunity Commission (EEOC). NAS fired Mr. Thompson three weeks after it learned that Ms. Reglado had filed her discrimination claim. Mr. Thompson eventually sued NAS, alleging it retaliated against him by firing him because his fiancée had filed a discrimination claim against it.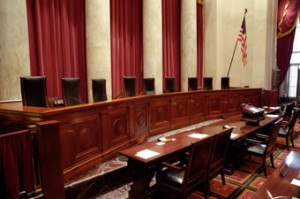 The District Court dismissed Mr. Thompson's case, ruling that Title VII does not permit third party retaliation claims. That decision was affirmed on appeal. But in Thompson v. North American Stainless, LP, the United States Supreme Court disagreed, and instead ruled that Mr. Thompson has a valid retaliation claim under Title VII because "a reasonable worker might be dissuaded from engaging in protected activity if she knew that her fiancé would be fired."
The Supreme Court decided not to set a bright line rule on what type of personal relationship is enough to claim that a company retaliated against am employee based on someone else's legally protected activity. It noted that a close family member will almost always meet the standard, but left open whether retaliation against an employee's girlfriend, boyfriend, close friend, or trusted co-worker would be protected.
The United States Supreme Court's decision in Thompson is similar to the New Jersey Supreme Court's 1995 ruling in Craig v. Suburban Cablevision. Craig holds that the anti-retaliation provision of the New Jersey Law Against Discrimination prohibits an employer from retaliating against an employee's close friends and relatives who work for the same company, since otherwise employers could discourage employees from complaining about discrimination by threatening, intimidating, or otherwise harming their friends or family.

Retaliation in the workplace violates the law. If your employer has retaliated against you, you should contact an employment lawyer in New Jersey or New York who can help enforce your employment law rights.