Earlier this year, the Third Circuit ruled that Reading Hospital and Medical Center may have violated the Family & Medical Leave Act ("FMLA") by failing to reinstate one of its employees after her physician cleared her to return to work.
Vanessa Budhun broke a bone in her right hand on July 30, 2010 and subsequently began an FMLA leave. On August 12, 2010, she submitted a doctor's note clearing her to return to work on August 16. The doctor's note also stated: "No restrictions in splint."
In response, Reading informed Ms. Budhun that because her doctor's note said "no restrictions" she had to return to work "full duty (full speed)." The hospital also indicated that if she could not work at full speed she had to submit another doctor's note extending her medical leave. In a subsequent email, Reading clarified that Ms. Budhun could not return to work until she had use of all 10 fingers.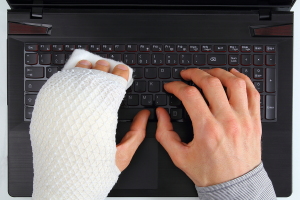 Ms. Budhun's doctor then submitted FMLA forms to Reading indicating her leave would end on August 16. Her physician also included a note asking to excuse her from work until September 8, apparently in reaction to the hospital indicating she could not return until she was able to work at full speed. Gradually, Ms. Budhun's doctor extended her medical leave until September 23. Since Ms. Budhun already had used approximately 4 weeks of FMLA leave earlier in the year, this exceeded her annual entitlement of 12 weeks of FMLA-protected leave.
By September 25, Ms. Budhun still was unable to return to work without limitations. As a result, Reading gave her job to another employee. On October 6, 2010, the company told her to pick up her personal belongings and return her identification badge and keys. By November 9, 2010, Reading deemed Ms. Budun to have abandoned her job.
Ms. Budhun filed a lawsuit alleging Reading had interfered with her rights under the FMLA. The District Court dismissed her case, ruling the FMLA allows employers to refuse to permit employees to return to work until their doctors clear them to work without restrictions. Ms. Budhun appealed.
In Budhun v. Reading Hospital and Medical Center, the Third Circuit reversed the trial court's order dismissing Ms. Budhun's claim. It found enough evidence to support her claim that Reading violated the FMLA by refusing to permit her to return to work on August 16.
The Third Circuit recognized the FMLA permits an employer to refuse to reinstate an employee returning from a leave if she cannot perform the essential functions of her job. However, it held that it is up to the employee's health care provider, not the employer, to determine if the employee can perform those functions.
The court further ruled that an employer cannot require an employee's physician to determine if she can perform the essential functions of her job unless the employer provides a list of those job functions. Reading did not do so, and Ms. Budhun's doctor cleared her to return to work with "no restrictions." As a result, the hospital was obligated to permit her to return to work.
Instead, without any medical support, Reading required Ms. Budhun to have full use of all of her fingers before she could return to work. It did so even though she was able to type, and there was nothing in her job description requiring her to type at any particular speed. Accordingly, the Third Circuit ruled a jury could find Reading interfered with Ms. Budhun's rights under the FMLA by failing to reinstate her, and reversed the order dismissing her claim.