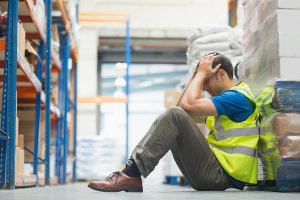 A New Jersey court recently ruled that a jury must determine whether an employer committed disability discrimination in violation of the New Jersey Law Against Discrimination ("LAD") by firing an employee for making a mistake on a day on which he had asked to be on a medical leave.
Matthew Cook worked for Gregory Press, Inc. as a printing machine operator.  In 2011, he began to experience neck pain, numbness and tingling in face, and tingling in his hands.  He saw a doctor who recommended an MRI.
In the meantime, Mr. Cook's home was flooded and severely damaged by Hurricane Irene.  He took almost a week off from work to repair his home.
Shortly thereafter, Mr. Cook took time off for his MRI, which revealed a lesion on his spine.  His doctor then sent him for a spinal tap.
Mr. Cook asked his supervisor, Jeffrey Loessel, for permission to take time off for his spinal tap.  Later that day, the owner of the company, Gregory Loessel, told Mr. Cook that a lot of people do not believe there is anything wrong with him.  Even after Mr. Cook reminded him about the lesion on his spine, Gregory told him he thought his problem was caused by stress from the flood.
Mr. Cook's spinal tap left him dizzy and caused a migraine-like headache.  Although he was bed-ridden during the weekend after the procedure, and despite a headache, he attempted to work the following Monday morning.  However, he eventually had to go home.  Mr. Cook's doctor subsequently prescribed him medication for his headache, including a steroid, and faxed a note to the company indicating he would not return to work until later in the week.
Mr. Cook called Jeffrey and told him that his doctor wanted him to stay home and rest.  Although Mr. Cook explained that the bright lights and extremely loud noise at work would make his condition worse, Jeffrey directed him to return to work by Wednesday.
Mr. Cook came to work on Wednesday even though he was still not up to it.  During that day, he made a production error that delayed a printing job and wasted paper.  Mr. Cook claims this error was largely the result of the lights and noise causing his head pound, combined with anxiety he was experiencing as a side effect of the steroid he was taking.
On that Friday, Gregory yelled at Mr. Cook about his mistake.  This led to an argument during which Mr. Cook told Gregory that he still was suffering a severe headache and taking steroids.  Approximately 10 minutes later, Gregory fired Mr. Cook.
Mr. Cook's physician subsequently diagnosed him with Lyme disease.  Mr. Cook sued Gregory Press, claiming the company failed to provide him a reasonable accommodation for his disability and fired him because of his disability, in violation of the LAD.
The trial court dismissed his case, finding he did not have a disability within the meaning of the LAD since was capable of working when he made the error that led to his termination.
In Cook v. Gregory Press, Inc., the Appellate Division reversed that ruling.  It held that Lyme disease is a disability protected by the LAD.  It also recognized that Mr. Cook's treating physician's testimony established that he had this disability while he was working for Gregory Press.
The Court further concluded that a reasonable jury could find Mr. Cook requested a reasonable accommodation for his disability based on his doctor's note and conversation with Jeffrey in which he indicated he could not work until later in the week.  Likewise, a jury could find Jeffrey denied Mr. Cook's request for an accommodation without engaging in an "interactive process" to determine if the company could reasonably accommodate his disability, and instead ordered him to return to work by Wednesday.  Accordingly, it reversed the trial court's decision that had dismissed Mr. Cook's lawsuit.