Last week, the New Jersey Supreme Court permitted criminal charges to proceed against an employee who took documents from her employer to try to prove her employment discrimination and retaliation claims.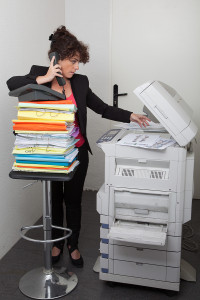 Ivonne Saavedra worked as a clerk for the North Bergen Board of Education. In 2009, she filed a lawsuit which included allegations that the Board had discriminated against her because of her race, ethnicity, national origin and gender, in violation of the New Jersey Law Against Discrimination ("LAD"). She also alleged retaliation in violation of the Conscientious Employee Protection Act ("CEPA").
In her employment law case, Ms. Saavedra produced copies of documents she took from the Board while she was working for it. This included both originals and photocopies of documents that the Board claims contain "highly confidential student educational and medical records." According to Ms. Saavedra, she took these documents in an effort to prove her discrimination and retaliation claims. She did so without the Board's permission.
The Board reported this to the county prosecutor. Eventually, a grand jury indicated Ms. Saavedra for two crimes: official misconduct and theft by unlawful taking of public documents. Her lawyer tried to get these criminal charges dismissed. Among other things, relying on Quinlan v. Curtis-Wright Corp., Ms. Saavedra argued that New Jersey law protects employees who take documents in an effort to support a discrimination lawsuit. I discussed Quinlan in my article: Can You Be Fired For Giving Confidential Company Documents to Your Employment Lawyer?
In December 2013, the Appellate Division denied Ms. Saavedra's attempt to dismiss the indictment. On June 23, 2015, in State v. Saavedra, the New Jersey Supreme Court affirmed.
The Supreme Court first explained that the allegations against Ms. Saavedra, if true, would support the alleged crimes. It then rejected her arguments that the criminal charges should be dismissed based on the doctrine of fundamental fairness, the criminal statutes were vague as applied to her, prosecuting her under the circumstances would deter other individuals from trying to prove discrimination and retaliation claims, and prosecuting her would violate New Jersey's public policy in support of preventing discrimination and retaliation. The Court relied heavily on the fact that Ms. Saavedra could have obtained the documents she needed to prove her claims through the discovery process in her civil litigation, instead of engaging in self-help.
However, the Supreme Court indicated that Ms. Saavedra can assert an affirmative defense to the criminal charges against her that she "has a claim of right or other justification based on New Jersey's policy against employment discrimination, because she removed the documents from her employer's premises in order to use them to prosecute her civil claim." In other words, she can try to convince the jury she was justified in taking the documents because she genuinely believed she had the right to take them to try to prove her discrimination and retaliation claims.
The lesson of the Saavedra case is that employees who are considering taking documents from their jobs to help prove a legal claim should do so with caution. While it may be okay to keep copies of documents your employer provided to you, such as your offer letter, employment contract, or performance reviews, it is risky to take documents you are not entitled to keep. This is especially true with respect to the employer's original documents, and documents that contain private or confidential information. The bottom line is that while although keeping copies of certain documents could help you prove your legal claim, employees should be very careful not to do anything that could subject them to discipline, let alone to criminal prosecution.
For more information about the Saavedra case, please see my previous article: Prosecuted for Trying to Prove Discrimination?